---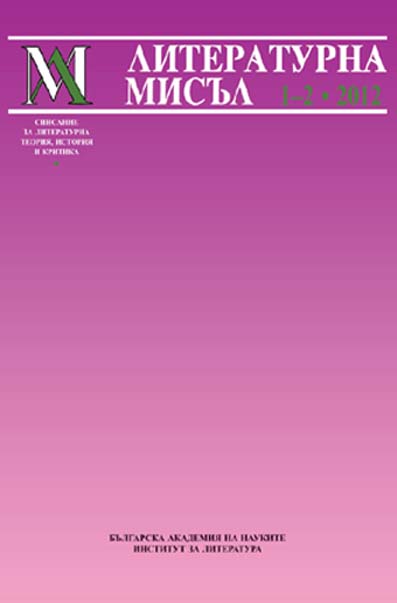 Съдържание
Summary
---
Галин Тиханов (London), Наративи за изгнаничеството: космополитизъм отвъд либералното въображение
Galin Tihanov , Narratives of exile: Cosmopolitanism beyond the liberal imagination
Summary
---
Раймонд Детрез (Гент), "Албанската връзка" на Григор Пърличев
Raymond Detrez, Grigor Părličev's "Albanian connection"
Summary
---
Сергей Кибальник (Санкт Петербург), Споровете за Балканската война на страниците на "Ана Каренина"
Serguei Kibal'nik, The debate about the Balkan war in "Anna Karenina"
Summary
---
Джузепе дел'Агата (Пиза), Рецепцията на Пенчо Славейков в Италия
Giuseppe del'Agatha, The reception of Pentcho Slaveikov in Italy
Summary
---
Мари Врина-Николов (Париж), От век на век – българската литература между традиция и свобода (началото на XX в. – началото на XXI в.)
Mary Vrina-Nikolov, From century to century – the Bulgarian literature between tradition and freedom (the beginning of 20th century – the beginning of 21th century)
Summary
---
Емануела Свиларова, Съвременна българска емигрантска литература, или за трудния прочит на външното отвътре
Emanuela Svilarova, Contemporary Bulgarian emigrant literature or on the difficult reading of the external from inside
Summary
---
Мариана Кирова, Неизвестни ръкописи на Змей Горянин. В манастира "Седемте престола" творецът пише любовна лирика
Marianna Kirova, Unknown manuscripts of Zmey Gorianin. The poet creates love lyrics in "The seventh altars" monastery
Summary
---
Преглед
Ана Стойкова, Leksykon Tradycji Bułgadskiej. Konsultacja naukowa Aleksander Naumow. Redakcja naukowa Grażyna Szwat-Gyłybowa. Warszawa: Slawistyczny ośrodek wydawniczy, 2011. 376 s.
Ana Stoykova (Institute for literature, BAS),ana.stoykova@gmail.com, ana.stoykova@gmail.com
Нови книги на издателски център "Боян Пенев"